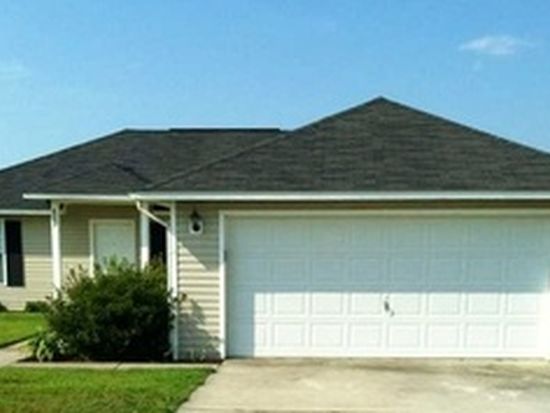 Yesterday marks another remarkable testimony from God. When we left Georgia, we thought it would be a while before we would be able to be home owners again. In July of 2014, two of the kids plus Wayne and I came to Milton, Florida to search for a place to live. We had 4 days initially to find a place, and all was going poorly. Poorly due to the fact we had a small, one income budget to work with, the kids dropped the truck keys down the elevator shaft which means we waited all day for a maintenance person, the originally realtors we contacted were not interested in us once down here, and the renting here is very competitive. Each house we went to was either G-R-O-S-S, or it was small. I lived and breathed Zillow before we left, and the pictures online did not match what the house really looked like. There was a house that was near the hotel in East Milton, but I kept ignoring it praying we would find something at the beach. Wayne's manager here asked him Friday if he could work Monday, bc he really needed something to go out. God worked out dog and child sitters back in Georgia (since Natalie wasn't with us). Finally, on Friday we called Remax in desperation, after looking at what seemed 10 different homes, to ask about the house near the hotel. They couldn't let us see it until Monday, and God had already worked that out ahead of time when he got Wayne to move his leave time earlier in the day. We spent part of Saturday still searching, and then I told Wayne that I thought we needed to go to church. I needed to be with other believers. I googled "Vineyard Churches in Milton, FL" and low and behold there was one only 7 miles from the house! We went to church and they embraced us immediately, and even offered to help us move. Monday came and we visited the house. It was perfect! God saved the best for last. So we gave them our down payment and came home to pack. Remember the church, well they were truth tellers, they actually showed up at our house when the moving van came. We were completely unpacked in about an hour! They were amazing and still are, because we have make them our church family ever since.
We planned on living in this house until we could purchase one on our own down the road. Remax was fine, with a few frustrating things: it took them forever to contact you back about something, and the same to come out, they inspected the house 3 times in 6 months, etc. We were told two months before our lease was up that the owners did not want to renew the lease and we would have to move or go to monthly leases at $100 more. We were crushed. I mean we really enjoy our location, our neighbors, not moving ;), etc. We went on another house search and did find an old house that was gave us a potential opportunity to buy. Then, one Saturday we had a ring at the front door. It was the home owners, the owners that Remax told us we were not allowed to speak with or we would get into trouble, the ones that did not want to renew our contract. They were nervous and so were we, but we talked about everything and realized we had both been had by Remax. Two days later we were renting directly from the owners, and they lowered our rent $75. They even told us that they would not have a problem with us buying the house, and better still they would finance it. So, yesterday was a new day. A day that marks us as home owners once again.
Thank you Lord for your provision, your direction, your leading. I'm reminded Father of David's plea for you to lead him and for him not to stray:
23
Search me,
God, and know my heart;
test me and know my anxious thoughts.
24
See if there is any offensive way
in me,
and lead me in the way everlasting.
This is truly my prayer to you as well. I desire your will and not my own. I am so excited about you knowing our beginning and our end, and knowing the best for us. Thank you Lord for unanswered prayers, a new start, and work. You did all of this and it is just another testimony that places you at the right hand of God, and gives you all the glory you deserve. Amen